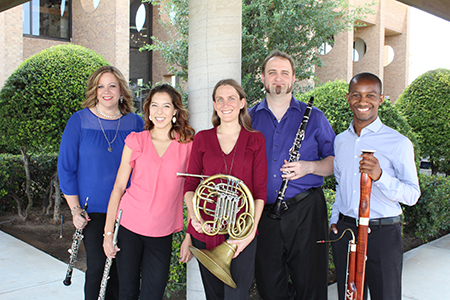 West Texas Winds
Katherine Velasquez - flute
Caryn Crutchfield – oboe
Chris Chance - clarinet
Sonja Millichamp - horn
Philip Hill - bassoon
In May of 2002, the West Texas Winds gained national recognition when they advanced to the semi-finals of The Fischoff National Chamber Music Competition in South Bend, Indiana. As the resident woodwind quintet of the Midland-Odessa Symphony & Chorale, the West Texas Winds are busy bringing quality chamber music to audiences young and old alike. From avant-garde to timeless classics, a West Texas Winds performance is like no other.



KATHERINE VELASQUEZ

Ms. Velasquez is the principal flute of the Midland Odessa Symphony & Chorale and a member of the West Texas Winds Quintet. She maintains an active pedagogical career in the Midland / Odessa area and serves on the faculty at The University of Texas of the Permian Basin.

Originally from Austin, Texas, Ms. Velasquez holds a Bachelor's of Music degree magna cum laude from Boston University and has attended institutions such as the New England Conservatory of Music and the University of Southern California Thornton School of Music. She has studied with some of the world's most renowned flutists including Jim Walker, Linda Toote, Elizabeth Rowe, and Paula Robison. Ms. Velasquez has performed with orchestras throughout Europe and the United States under conductors Gary Lewis, Carlos Miguel Prieto, Benjamin Zander, Robert Spano, Christoph Campestrini, James Conlon, Carl St. Clair, and David Newman. She has been the first prize winner of the National Flute Association's Orchestral Excerpts Competition and has received top awards from the Yamaha Young Performing Artists Competition and the U.S. Marine Band Concerto Competition. Her festival experience includes fellowships with the YOA Orchestra of the Americas, the National Symphony Orchestra's Summer Music Institute, the Hot Springs Music Festival, and the National Music Festival.




CARYN CRUTCHFIELD

Caryn is in her eighteenth season with the Midland-Odessa Symphony & Chorale and her ninth with the West Texas Winds. She holds a Bachelor of Music degree and a Master of Music degree in Oboe Performance from West Texas A&M University where she studied with Robert Krause.

In 2012 Caryn was honored to perform as the guest artist for the Midland-Odessa Symphony and Chorale and has also had the opportunity to perform at the Texas Music Educators' Association Convention on three occasions and with the WTAMU Director's Band at the Texas Bandmasters' Association Convention twice.

Caryn currently teaches private lessons to approximately twenty students in the Permian Basin, teaches elementary music at Midland Montessori School and makes oboe reeds for people throughout the country. She is married to Kevin, a violinist in the Midland-Odessa Symphony & Chorale, and has three children, Morgan, Preston and Alyssa.




CHRIS CHANCE

Clarinetist Chris Chance enjoys a varied career as an orchestral musician, chamber musician, recitalist, teacher, and recently as a concert soloist as well. He has performed across the U.S. as well as in Canada, Mexico, and Japan.

A student of Eli Eban, Chris earned a Bachelor of Clarinet Performance and a Performer Diploma in Clarinet at the Indiana University Jacobs School of Music. While at IU, he was awarded the prestigious Performer's Certificate award for his Junior Recital, and received an unprecedented second nomination for his Senior Recital.

In addition to serving as Principal Clarinet of the Midland-Odessa Symphony and clarinetist of the MOSC's West Texas Winds woodwind quintet, Chris is also Principal Clarinet of the Missouri Symphony Orchestra, a summer-season orchestra based in Columbia, Missouri. In the past, he has been a member of the Columbus Indiana Philharmonic and the Ohio Light Opera, and was offered a position in 2001 with the Orquesta Sinfónica UANL of Monterrey, Mexico. Chris has also performed as a guest chamber artist at the Hot Springs music festival in Hot Springs, Arkansas.

As a concert soloist, Chris has performed with both the Missouri Symphony and the Midland-Odessa Symphony. In 2015 he and the MOSC gave the Texas premiere of Oscar Navarro's "II Concerto" for clarinet and orchestra. He has also performed as a soloist with the orchestra at University of Texas of the Permian Basin (2015-2016 season), where he is currently Adjunct Instructor of Clarinet.




SONJA K. MILLICHAMP

Sonja K. Millichamp earned her Bachelor's degree in horn performance from the Cleveland Institute of Music and her Master's degree from the University of Illinois at Urbana-Champaign. During the summers she studied at the National Orchestral Institute in College Park, Maryland, and at the Pacific Music Festival in Sapporo, Japan. Prior to moving to West Texas, Sonja spent six years as the horn professor at Millikin University in Decatur, Illinois, where she also performed with the faculty woodwind quintet and served as Principal Horn of the Millikin-Decatur Symphony Orchestra. She was also Third Horn of the Champaign-Urbana Symphony and a member of the Prairie Ensemble, and spent several summers playing principal horn for Opera in the Ozarks. She has performed with the Illinois, Peoria, and Danville Symphonies, among others, and continues to sub regularly with the Arkansas, Big Spring, and Southwest Symphonies.

Sonja is currently Co-Principal Horn of the Midland-Odessa Symphony & Chorale as well as Second Horn of the Missouri Symphony during its summer season. She is also Co-Director of Music at the Unitarian-Universalist Church of Midland, where she often gets to perform as a vocalist, and she maintains a private studio of horn and trumpet students. Sonja is married to Co-Principal Hornist Scott Millichamp; together they enjoy taking care of their xeriscape garden and their two cats.




PHILIP HILL

Philip Hill is principal bassoon of the Midland-Odessa Symphony and Chorale and bassoonist of West Texas Winds.

He earned his Master of Music degree in Music Performance at the Fred Fox School of Music at the University of Arizona. During his time at UA he was principal bassoon of the Arizona Symphony Orchestra, as well as bassoonist in the Fred Fox Graduate Wind Quintet and the Saguaro Bassoon Ensembles. He earned his Bachelor of Music degree in Music Education at East Carolina University, where he studied bassoon under Christopher Ulffers and was principal bassoon of the ECU Symphony Orchestra. He also performed at times as principal bassoon of the ECU Wind Ensemble and ECU Opera, the latter known for performing a wide variety of works – from standard Mozartoperas to world premieres. As part of the North Carolina New Music Initiative, formerly known as New Music @ ECU, Philip participated in many premieres, recordings, and new music projects. Most notable is his performance in the world premiere and recording of Travis Alford's Loose Strands for chamber wind ensemble. In addition to private bassoon instruction in his hometown of Chesapeake, Virginia and touring with the ECU Symphony Orchestra, he also made an appearance with the North Carolina Symphony Orchestra.

Currently, Philip holds a private bassoon studio in the Midland-Odessa area and is committed with his colleagues to expanding the performance of chamber music repertoire to younger musicians.