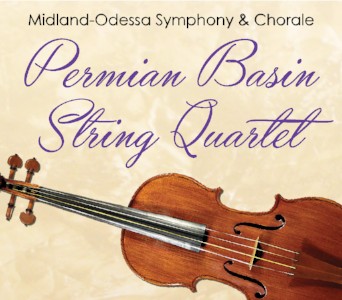 Permian Basin String Quartet
John Madura - violin
Melissa Madura - viola
Amy Huzjak - cello
TBD - violin
Described by the Odessa American as "a precise and authoritative sound" the Permian Basin String Quartet (PBSQ) is the resident quartet of the Midland-Odessa Symphony & Chorale and is comprised of the principal string players of the orchestra. The quartet members have developed a loyal audience and a reputation as a leading ensemble in the Permian Basin. The PBSQ has made recent appearances in Midland, Odessa, Abilene, Alpine, San Angelo, Big Spring, Lubbock, and Hobbs, NM. In 2015, the PBSQ was the featured guest artist on the Abilene Christian University (ACU) Tour as the soloists on Short Stories by Joel Puckett as well as gave the Texas premiers of several works by ACU visiting composer Hyunjoo Lee. In 2013 the PBSQ appeared in the Abilene Philharmonic Nocturne series as well as the Church of the Heavenly Rest Chamber series. The PBSQ frequently appears with the San Angelo State University Choir, has given masterclasses in Mexico and Lubbock, TX as well as appeared with Chamber Music Amarillo. In addition to performance, the PBSQ is very dedicated to music education. The PBSQ gives educational concerts at elementary schools in the Permian Basin throughout the year. In addition, the PBSQ serves as section coaches for several high school orchestras in the Permian Basin as well as the University of Texas-Permian Basin (UTPB) University Orchestra. The PBSQ has also partnered with UTPB as the faculty for the All-Region Summer Workshop as well as the Hartwick College Summer Festival in Oneonta, NY. Members of the PBSQ are on faculty at UTPB, ACU, Midland College and Odessa College as well as maintain private studios.
For more information about the quartet, educational programs, and schedule, please visit their Facebook Page 



John Madura

JOHN MADURA

John Madura, a native of Arden Hills, Minnesota, began studying the violin at the age of three and has been playing professionally since he was six years old. Mr. Madura grew up in a musical family; his father is a cellist and conductor, his mother is an oboist, and his sister is a cellist. The Madura family quartet experience offered Mr. Madura an early and somewhat hilarious perspective on chamber music. (The Maduras love to laugh!) From age seven to seventeen, he switched gears and became a springboard diver. Music and violin were constant, but overshadowed by diving during those years, As a diver, he won numerous state, regional, and national titles. (Mr. Madura no longer dives unless his children need a dose of cool at the local pool.)

He is currently serving in his eighth season as Concertmaster of the Midland Odessa Symphony orchestra and First Violin in the Permian Basin String Quartet. Mr. Madura is Concertmaster of the Big Spring Symphony in Big Spring, Texas and the Southwest Symphony in Hobbs, New Mexico. He is also associate Concertmaster of the Abilene Philharmonic. He is on faculty at the University of Texas Permian Basin where he teaches, coaches, and performs.

Mr. Madura's career as a violinist has been a joyous journey because of the rich diversity it has offered him. From playing concerti in front of an orchestra, in a smoky jazz club, the most sublime hymn, or Late Beethoven quartets, Mr. Madura feels truly blessed.

Some highlights of Mr. Madura's career include performances and tour of "Short Stories", by David Puckett with the Abilene Christian University wind ensemble, the Permian Basin String Quartet in January 2015, and performing the violin part in the Broadway production of "Chicago" in April 2015. He has been enjoying sharing masterclasses with the students of Milam elementary in Odessa, Texas since 2011. In 2010, Mr. Madura performed the Brahms concerto to high praise with the MOSC. In 2004, he was the winner of the Texas Tech University Concerto Competition and performed the Brahms Violin Concerto with the TTU Symphony Orchestra under the baton of Gary Lewis. A year later, he and his then fiancé, Melissa were invited to perform Mozart's Sinfonia Concertante with the Caprock Pro Musica Chamber Ensemble in a concert celebrating the 250th anniversary of Mozart's birth. The following summer, Mr. Madura was selected as a finalist in the Schlern International Music Competition taking place in Schlern, Italy.

Mr. Madura has a long history of orchestral performance. He has been in the Baton Rouge, Acadiana, and Lubbock symphonies. He was Concertmaster of the Natchez Opera Orchestra and was Assistant Concertmaster for the Abilene Opera Orchestra. Mr. Madura has performed with Chamber Music Amarillo and was invited to participate in the Quartz Mountain Music Festival Orchestra and String Quartet. He has performed with major artists such as Itzhak Perlman, Mark O'Connor, Brad Leali, The Smothers Brothers, Mercedes Ellington, Sarah Brightman, Sandi Patty and Smokey Robinson.

Mr. Madura is highly sought after as a chamber player, pedagogue, and clinician and believes strongly in sharing his gifts with the younger generation.

Key instructors for Mr. Madura include Dr. John Gilbert at TTU, James Alexander and Kevork Mardirossian at Louisiana State University and Elizabeth Ericksen of St. Paul, Minnesota.

Mr. Madura loves to cook, travel, paint, jump off of cliffs and disc golf. He is blessed to be married to his beautiful wife/co-worker, Melissa. They have two incredible children together.




Melissa Madura

MELISSA MADURA

Melissa Madura grew up on a small farm in Viroqua, WI. She began playing the viola when she was 14 years old and now holds a Bachelors degree in Viola Performance from Lawrence University Conservatory of Music, a Masters of Music from Texas Tech University and has begun her doctoral studies at Texas Tech University.

Mrs. Madura enjoys playing in solo, orchestral, and chamber music settings. This is her eighth year as Principal Violist in the Midland-Odessa Symphony and Violist in the Permian Basin String Quartet. She has been playing with the Midland-Odessa Symphony for eleven years. She plays in the Abilene Philharmonic Orchestra and has also played with Lubbock Symphony Orchestra, Chamber Music Amarillo, Big Spring Symphony, Green Bay Symphony Orchestra, LaCrosse Symphony Orchestra and was principal violist for her undergraduate and graduate institution orchestras. She was also the violist for the Texas Tech University Graduate String Quartet, Lubbock Symphony Orchestra String Quartet and Lawrence University Community Outreach Resident Ensemble with which she was invited on an international tour to Vietnam. She has appeared as a soloist with the Caprock Pro Musica Chamber Ensemble playing Mozart's Sinfonia Concertante under the baton of Gary Lewis and was also invited to play as a soloist with her teacher, Renee Skerik, playing the Bach Brandenburg Concerto No. 6.

Mrs. Madura loves to teach and is in her sixth year of teaching at UTPB as Adjunct Professor of Viola. She maintains a large studio of private students in the Midland-Odessa area and is also Orchestra Director for St. Ann's School in Midland. She has been invited to teach masterclasses at institutions such as Texas Tech University and Abilene Christian University.

Mrs. Madura's principal teachers include Renee Skerik and Dr. John Gilbert at Texas Tech University and Matthew Michelic of Lawrence University Conservatory of Music.




Amy Huzjak

AMY HUZJAK

Originally from Colorado, cellist Amy Huzjak has been a member of the Midland-Odessa Symphony & Chorale since September 2011, serving as Principal Cellist and as cellist of the Permian Basin String Quartet. Amy also plays with the Abilene Philharmonic Orchestra, Amarillo Symphony, Big Spring Symphony, and freelances throughout West Texas. Recent solo appearances include the Adagio of the Dvorak Cello Concerto with the University of Texas-Permian Basin, Shostakovich Cello Concerto with the Abilene Christian University Orchestra and a duo recital in Dallas. She has a studio of over 30 students in the Midland/Odessa area and is the Adjunct Professor of Cello at the University of Texas-Permian Basin, Abilene Christian University, Midland College, and Odessa College.

Before moving to Texas, Amy was the Principal Cellist of the Huntington (WV) Symphony Orchestra and played with several D.C area orchestras including the Fairfax (VA) Symphony Orchestra, Apollo Chamber Orchestra (MD), and the Prince William (VA) Symphony. She was a faculty member at the International School of Music in Bethesda, MD and had a private studio in College Park, MD.

Amy received her Masters degree in Music Performance at the University of Maryland in May 2011. During her time there, Amy served as an Orchestral Graduate Assistant, studying with David Teie and Evelyn Elsing. She received her Bachelors degree Summa Cum Laude from Arizona State University in May of 2009 where she studied with Thomas Landschoot. Amy has participated in numerous summer festivals including the Aspen Music Festival, National Orchestral Institute, and Killington Music Festival, studying with Michael Mermeguen, Andrew Schulman, and Brinton Smith.