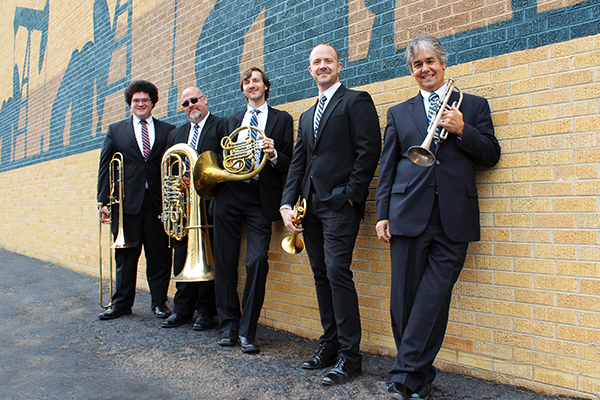 Lone Star Brass
Mike Santorelli - trumpet
Eric Baker - trumpet
Scott Millichamp - horn
Nicholas Conn - trombone
Kevin Young - tuba
The Lone Star Brass presents concerts that display the consummate technical skill of each performer and the expertise involved in working together as an ensemble. From New York to New Mexico, this seasoned ensemble offers programs of classical music, jazz, original works and even opera - complete with wigs and costumes. They perform to have fun, and it rubs off on their audiences at each and every concert. Don't miss the annual Lone Star Brass Christmas Concert!



MICHAEL SANTORELLI

Michael J. Santorelli is currently in his 33rd season with the Lone Star Brass and the Midland-Odessa Symphony. He has also been the director of Instrumental Music at Trinity School from 1999 to June 2016, Adjunct instructor of Trumpet at Midland College since 1984 and Adjunct Instructor of trumpet at the University of Texas Permian Basin since 2011. Michael continues to perform as Principal Trumpet with the Big Spring Symphony, and has been featured as Soloist with the Midland-Odessa, San Angelo, and Big Spring Symphonies. He has also appeared as soloist with the Midland and Odessa College Bands.

In March of 1998, Michael was invited to tour Italy with the St. Ann's Choir of Midland, performing in St. Peter's Basilica in the Vatican City, in the Basilica of St. Francis of Assisi, in the Church of the Trinity in  Florence, and as a Soloist at the formal public concert for the City of Rome at St. Ignatius Church.

Mr. Santorelli also performed in Carnegie Hall, Avery Fisher Hall, and Riverside Cathedral in New York City for the American Choral Directors Convention in 2004. In 2009, Michael was invited to perform at the West Chester University's Annual International Trumpet Festival as featured soloist on numerous performances. 'He was invited back to the West Chester festival in February 2016 to perform a solo recital with his wife Shari.

Before coming to Midland, Mr. Santorelli performed in Mexico, over a nine year period, with the Chamber Orchestra of the NorthWest, the Autonoma Orchestra, the Guadalajara Symphony, the National Orchestra of Mexico City, and the Band of the State of Jalisco. While in Mexico, he also taught at the Universities of Guadalajara, and Colima.

Mr. Santorelli started his studies on trumpet at age eight, while in the 4th grade, and appeared as soloist for the first time at Lincoln Junior High School in Syracuse, New York in the 8th grade, performing 'Return to Sorrento'. He continued his studies after graduating from A. Henninger High School, at  Onondaga Community College (AAS), Berklee College, Murray State University (BME), and the University of Louisville (MM). He is married to Shari Santorelli, and they have three grown children, Rachel, Jessica, and Mikey.




ERIC BAKER

Eric Baker grew up in Ft. Worth, TX, and began playing the trumpet at age 11. He received his B.M. in Music Education from the University of Texas at Arlington, and earned his Master's Degree in Trumpet Performance from Arizona State University where he studied with internationally renowned trumpet soloist and pedagogue, David Hickman. He was a member of The Cavaliers Drum and Bugle Corps for three years (2000, 2002, 2003), and taught the Santa Clara Vanguard as a brass staff member in 2011.

Mr. Baker moved to Odessa, TX in July 2006 to begin his tenure as Co-Principal trumpet with the Midland-Odessa Symphony & Chorale. He has also performed with the Big Spring Symphony, and the San Angelo Symphony, the Legend Brass Quintet, the West Texas Trumpet Workshop, and the Salt River Brass Band. He also performs regularly with the Lone Star Brass Quintet, Jumping Giants, The Pinstripes Jazz Quartet, and The Sipriano Swing Band. He free-lances all over West Texas, and is a highly sought-after marching band clinician and private teacher. He has performed in several states and Mexico.

In 2007 Mr. Baker was invited to be a featured soloist at the Western International Band Clinic in Seattle, WA. In 2010, he was a semi-finalist for the National Young Artists Competition, and in 2011 he performed as soloist with the Midland/Odessa Symphony. Mr. Baker appears on the albums "What Sweeter Music," and "Rocket Science."

He was appointed to the position of Director of Bands at Odessa College in 2009 where he conducts the Concert, Jazz, and Athletic bands, teaches the trumpet studio, conducts the opera productions, and serves as Chair of Visual and Performing Arts Department. He also serves on the board of directors for the Odessa Council for the Arts and Humanities, and the West Texas Jazz Society. His wife, Emily is the director of the MOSC Voices of the Permian Basin. They have three daughters, Piper, Keller, and Harper. Mr. Baker is a Conn-Selmer Endorsing Artist.




SCOTT MILLICHAMP

Scott Millichamp is Co-Principal Horn of the Midland-Odessa Symphony Orchestra, hornist with the MOSC's Lone Star Brass quintet, Fourth Horn with Abilene Philharmonic, Second Horn with the summertime Missouri Symphony Orchestra, Instructor of Music Theory and Aural Skills at University of Texas of the Permian Basin, and Co-Music Director at the Unitarian-Universalist Church of Midland.

A native of Detroit, he graduated from Interlochen Arts Academy with a Fine Arts Award in Horn and received his Bachelor and Master degrees in Horn Performance from Indiana University. Following his time at IU, he served concurrently as a Graduate Teaching Assistant in Composition at the University of Hawaii in Manoa, a substitute hornist with the Honolulu Symphony Orchestra, pianist for Honolulu Waldorf School eurythmics classes, and Choir Accompanist for First Unitarian-Universalist Church of Honolulu. Prior to his MOSC appointment in 2009, he served as Fourth Horn of the Arkansas Symphony Orchestra; he has also performed with Arkansas's Opera in the Ozarks festival and the Lyrique-en-Mer opera festival in Belle-Ile, France.




NICHOLAS CONN

A native of San Antonio, Texas, Nicholas is a graduate of the Eastman School of Music where he received his Bachelor of Music degree. In December 2015, Nicholas received a Master of Music degree from the Royal Northern College of Music in Manchester, UK where he graduated with Distinction.

In August 2016, Nicholas started his first season as Principal Trombonist with the Midland-Odessa Symphony & Chorale and as a member of the Lone Star Brass. Nicholas has previously appeared with the Royal Liverpool Philharmonic Orchestra (UK) and Opera North (UK).

Active over the past few years as a trombone soloist, Nicholas has appeared in the United States and abroad. Recent performances of note include an appearance with the Lichfield Sinfonia (UK) playing the Concerto for Trombone by Launy Gröndahl and an appearance with the Manchester Beethoven Orchestra (UK) playing the Concertino in Eb Major, Op. 4 by Ferdinand David. In December 2014, during the opening of the "Philip Jones Centre for Brass" at the Royal Northern College of Music, Nicholas was invited to play as a featured soloist with a 10 piece brass ensemble playing an arrangement of Londonderry Air, which was arranged and made famous by former member of the Philip Jones Brass Ensemble, John Iveson. In addition to being a featured soloist,  Nicholas had the special opportunity of playing this solo for Mr. Iveson who was a guest of honor for the opening ceremony. Nicholas was recently invited to perform Land of the Free by Walter Rogers with the Heart of Texas Concert Band for Independence Day Celebrations at the Alamo in San Antonio, Texas.

In August 2015, Nicholas opened for Robert Glasper at the Manchester Jazz Festival, with an ensemble consisting of 5 trombones and rhythm section featuring his arrangements and compositions. Some of the jazz artists that Nicholas has appeared alongside include: Lee Konitz, Bob Brookmeyer, Wycliffe Gordon, Tim Garland, Nikki Illes, Julian Joseph and Mark Nightingale. In October 2015, Nicholas was selected as a finalist in the Johnny Raducanu International Jazz Competition in Romania. 

Nicholas has had his arrangements and compositions played around the world. While living in the UK, he had some of his big band arrangements played live on BBC Radio 3 in Manchester by the RNCM Big Band. Currently, he is working on several commissions in the US, UK and Australia. Recently, Nicholas has been invited to the Ukraine to perform a concerto with the Donetsk State Philharmonic Society in the coming orchestral season. In fall 2016, Nicholas will be joining the adjunct faculty of University of Texas at the Permian Basin as trombone instructor.

Nicholas has studied with: Rob Holliday, Roger Cutts, Simon Cowen, Dr. John Marcellus, Mark Kellogg, Ron Wilkins, Ed Geimer and Dr. Carl Lobitz.




KEVIN YOUNG

Kevin Young is a native of Baton Rouge, Louisiana where he began his music career playing trombone and tuba at the age of 11. After graduating from high school he attended Louisiana State University. His academic career was interrupted with his enlistment into the United States Army. He spent nearly nine years serving his country at four separate duty stations. His assignments were to the 1st Calvary Division Band in Ft. Hood, Texas, 8th Army Band in Seoul, Korea, The United States Continental Army Band in Ft. Monroe, Virginia and the 389th Army Band (AMC's own) in Aberdeen Proving Grounds, Maryland.

Kevin has performed extensively throughout the East Coast from Orlando, Florida to Halifax, Nova Scotia. He has also performed as a free-lance musician outside of his military assignments with many chamber ensembles.

Now out of the military, Kevin is now completing his D.M.A. at Texas Tech University, where he studies with Dr. Kevin Wass, and has completed both the Bachelor of Music and Master of Music degrees from L.S.U. Kevin is the Principal Tubist of the Midland & Odessa Symphony and the Lone Star Brass quintet.

In addition to maintaining a busy private lesson studio, he also serves as Adjunct Faculty for UTPB, Wayland Baptist University, and Lubbock Christian University. He is also on faculty with the Chen International Cultural Arts Festival in Eureka Springs, AR. He has performed with the Louisiana Philharmonic Orchestra, Rapides Symphony Orchestra, San Angelo Symphony, Dominion Brass Band, and the Salt River Brass.

Kevin has been a semi-finalist in auditions for the United States Army Band, The United States Field Band, The Dallas Brass Quintet and The United States Military Academy Band. His playing has been greatly influenced by Dr. Kevin Wass, Gene Pokorny, Dr. Joseph Skillen, Larry Campbell, Sam Pilafian, Pat Sheridan, Deanna Swoboda, John Manning and Robert Nuñez. In his spare time, Kevin enjoys spending time with this wife, Lee Ann and their three puppies, Ginger, Charlie, and Sophie.